FINISH YOUR B.S. AND M.A. IN 5 YEARS
Current students at the University of Florida have the option to pursue a combined degree from UF CJC Online. One extra year means endless opportunities to develop cutting-edge communication skills that will change your life. Graduating with both a bachelor's and master's degree from one of the country's top communication colleges will set you apart in your quest for the perfect job and empower you to shape the future of the communications industry.
How Do I Choose the Right Program for Me?
What are your interests? Our seven online master's specializations are designed to teach industry-specific skills that are highly sought after in the workplace. From web design to public relations, we offer a wide range of specializations geared towards providing real-world solutions to communication problems. Overwhelmed by options? Try the quiz to see where you fit.
Click here to view course descriptions for each track.
Step 1: Select Your MAMC Combo Degree Track

Step 2: Choose Your MAMC Specialization

Audience Analytics – With the MAMC in Audience Analytics, we're bringing left and right brains together. Data is only as useful as the person interpreting it, who can translate findings into actionable insights and "stories" for their companies and stakeholders. In this program, you will not only use tools to uncover actionable insights, but learn to communicate them in verbal and written form, including presenting to actual clients Find jobs in this lucrative industry.
Learn more about the Audience Analytics specialization.
---

Digital Strategy – The MAMC in Digital Strategy is a first of its kind program dedicated to producing graduates who are masters of digital marketing, including lead generation and management, engagement, and conversions. Learn to master marketing techniques to drive more conversions and create loyal customers. Explore jobs in this industry.
Learn more about the Digital Strategy specialization.
---

Political Communication – The MAMC in Political Communication explores the field of digital politics, an industry that has grown from $2 million to $1 billion in less than a decade. Whether you want to be a communications director on a presidential campaign, a media consultant creating grassroots outreach, or a public affairs strategist, this program is for you. This program guides you to navigate the thrilling political landscape, giving you the tools to make a difference. Explore jobs.
Learn more about the Political Communication specialization.
---

Public Relations & Communication Management – The MAMC in Public Relations & Communication Management focuses on the three pillars of innovation, globalization and excellence. Students in the Public Relations program learn the art and science of strategic public relations that can help them advance their career. Students become critical thinkers, strategic decision-makers and creative communicators. Look for careers in this field.
Learn more about the Public Relations specialization.
---
Social Media – Anyone can claim to be a social media expert, but a MAMC in Social Media will provide you with the skills needed to actually become a master. Learn how to do social media marketing in an academic environment where you can learn from your mistakes and take chances while earning a degree in what you love. Are you a hashtag lover? Find the #dreamjob for you.
Learn more about the Social Media specialization.
---

Web Design and Online Communication – Improve your graphic design skills and learn to code with the MAMC in Web Design and Online Communication. If live classes focused on design, visual communication and all things web appeal to you, then this might be the program for you. Become an effective, creative and innovative web designer. Search for the job that's right for you.
Learn more about the Web Design specialization.
---

Global Strategic Communication – The MAMC in Global Strategic Communication teaches the skills and strategies needed to solve world problems through thoughtful and effective communication techniques. This program is specifically designed for the dreamers and doers of the world who are passionate about solving global issues.
Learn more about the Global Strategic Communication specialization.
Step 3: Check your Eligibility
To confirm your eligibility, you can download our Combined Degree Interest Form and have your undergraduate adviser sign off on it.
To apply for our combined degree program, you must:
Be designated as a junior or senior
Have at least 6 available professional elective credits available
Plan to take the GRE and apply to the master's program
Maintain a 3.0 GPA
Write a brief statement of goals
Program Highlights

:
Undergraduate students from any UF major may apply.
You can take up to four graduate-level courses as an undergraduate student and graduate with only a year left of your master's degree!
These classes will count towards both your undergraduate and graduate school requirements.
Combined degree students will complete the CJC Online Master's Program alongside students with work experience in the field, in courses taught by UF College of Journalism and Communications faculty and highly qualified industry professionals, with exposure to a variety of visiting industry professionals.
How it Works: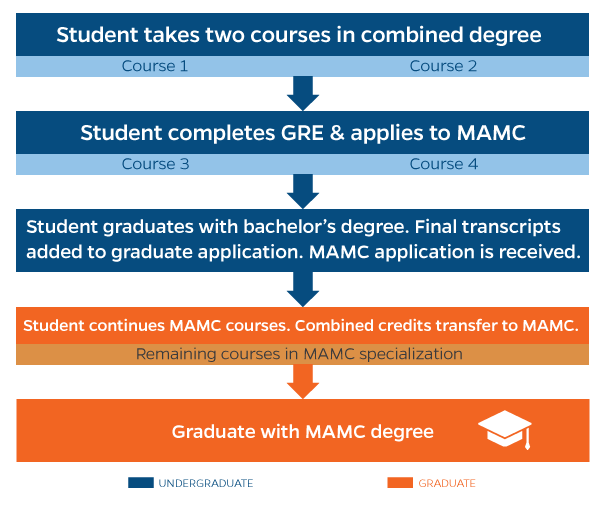 What to Do Next
Resources – Combined Degree Forms
Resources – Additional Information