Tips to Help You Ace Your Final Projects
By Ophir Lehavy, instructor and success coach
August 4, 2020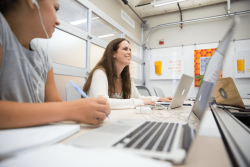 Final projects make many students nervous. As a graduate student, you may feel stretched for time, anxious about receiving good grades, or pulled in many directions. I compiled some tips to help save you time and hopefully ace your final projects.
Plan ahead
You can get started on your project ahead of time through a planning exercise. Planning out your project will create a more polished and organized final product. An organized project makes it easier for you to focus your research and for the professor to follow your thinking.
To plan your work, consider the goal of your project and what you want to say before you begin researching, writing, and creating. You may wish to create an outline, and you can also use this pre-writing checklist to focus your work:
What do you want the reader/viewer to think, feel, and do when engaging with your project?
What is your main idea or point of view?
What evidence do you need (photos, documents, quotes, videos, links) to get your message across?
Just do it (don't procrastinate)
Do you procrastinate when faced with an overwhelming task? You are not alone. Professor Joseph Ferrari at DuPaul University found that 20% of people are chronic procrastinators.
According to Elizabeth Lombardo Ph.D., "One of the biggest reasons people procrastinate is because they catastrophize, or make a huge deal out of something." Catastrophizing can sound like: "this is unbearable," "too hard" or "boring" or whatever version you say to yourself before sitting down to get the work done.
Keep things in perspective and turn it around. Once you start working, you may find that it is bearable, a healthy challenge, and even interesting.
You can read more tips in 11 Ways to Overcome Procrastination, Psychology Today
Proofread AND edit your work
Once you've crafted your first draft, let it rest for a day or two. The first draft is yours – when you get to put your thoughts down on paper. The next draft (and subsequent drafts) are when you revise your work for your reader (professor and peers).
Reviews fall into different categories: proofreading and editing. These require different skill sets and thus, requires two separate reviews.
Proofreading includes reviewing for typos, spelling, proper citations, and grammar errors. For impeccable grammar, you can use Grammarly to check for possible errors.
You should also edit for clarity and the strength of your message. Make sure that your main idea is clearly stated and that you have evidence to back it up. Be sure to re-state your main idea in your conclusion. Make sure that your content is clear and provides the proper context for the reader to understand your work.
If you would like help with your project, UF students can access free one-on-one support through UF's Writing Studio.
For personalized coaching and more tips, please feel free to reach out me at olehavy@jou.ufl.edu.