A Degree With

 Global Impact
Global Strategic Communication is a degree specialization for people whose primary motivation is purpose. This program equips students with the tools and skills needed to help solve the world's most challenging problems through thoughtful and calculated communication.
Communication With Purpose
This program will teach you how to communicate effectively across cultures and geographic boundaries to offer solutions to world problems such as climate change, immigration, poverty, human rights, business ethics, education and more. Our graduates solve problems on a global scale using strategic interpersonal communication skills with attention to cultural considerations.
Passionate Students
This program is specifically designed for the doers and dreamers of the world who never back down from a challenge. Our students possess an unparalleled passion for developing creative and effective solutions for problems in business or nonprofit environments large and small. Driven by the desire to achieve greater results, these students lead coworkers, peers, and stakeholders on a mission to turn aspirations into reality.
Tailored to Your Interests
The program is composed of three core pillars, which include Messaging, Communication, and Culture. These pillars account for 25 credits of classes, leaving the remaining 12 credits for additional customization through completion of courses from a specialized track of your choice. Choose from tracks including Audience Analytics, Cross Media Sales, Digital Strategy, Political Communication, Public Relations, Social Media, Storytelling, or Web Design and Online Communication. The degree plan includes a total of 37 credit hours— 34 hours of coursework plus three final credits in the capstone course. The capstone course allows students to solve real-world communications problems by working with a client.
Unique Learning Experience
UF CJC Online programs are designed for students who crave:
Courses that challenge them to grow as communicators through hands-on assignments where they receive detailed constructive feedback from peers and instructors
The flexibility of online courses where pre-recorded lectures and live online meetings allow students to engage with their courses from anywhere in the world
Networking opportunities with peers, alumni, instructors, and guest lecturers
Professional growth and advancement opportunities
Creative storytelling skills
A transformative student-centered learning experience
Personalized attention from highly engaged faculty
An affordable and respected graduate degree from a top-10 public university
Core Competencies of Global Strategic Communication
Students learn how to:
Craft messages for worldwide audiences
Localize global messages for different reasons
Engage in communication with members of diverse cultures
Make informed decisions with a global mindset
Be an effective leader
Leading positive social change through impactful global messaging
Core Courses of Global Strategic Communication

Foundations of Intercultural Communication
International Issues & Crisis Communication
Global Activism
Video Storytelling
Public Affairs Communication
Mass Communication Theory
Applied Strategic Communication Research Methods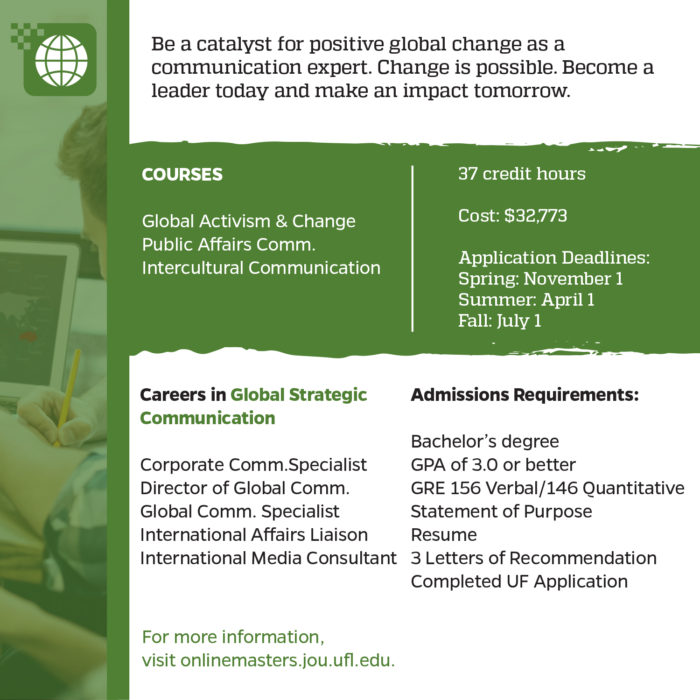 Application Deadlines:
Fall: July 1
Spring: November 1
Summer: April 1
Careers in Global Strategic Communication
Specific positions you may qualify for upon graduation include:
Chief Communications Officer
Corporate Communications Specialist
Development Communications Officer
Director of Global Communications
Global Communications Specialist
International Affairs Liaison
International Media Consultant
Regional Communications Officer
Senior International Consultant
Vice President of International Affairs