Design

Your

Future
University of Florida Online Master's in Web Design
The online Master of Arts in Mass Communication with a specialization in Web Design includes 37 credit hours: 34 hours of coursework plus three final credits in the capstone course. The program curriculum is guided by an Advisory Council of top industry experts, with courses taught by industry professionals and University of Florida faculty. Full-time students can complete the master's degree in as few as 16 months.
Unique Learning Experience
UF CJC Online programs are designed for students who crave:
Courses that challenge them to grow as communicators through hands-on assignments where they receive detailed constructive feedback from peers and instructors
The flexibility of online courses where pre-recorded lectures and live online meetings allow students to engage with their courses from anywhere in the world
Networking opportunities with peers, alumni, instructors, and guest lecturers
Professional growth and advancement opportunities
Creative storytelling skills
A transformative student-centered learning experience
Personalized attention from highly engaged faculty
An affordable and respected graduate degree from a top-10 public university
Core Competencies of the Web Design and Online Communication Specialization
Courses are designed to teach students how to:
Create branded messaging for digital platforms
Code a fully responsive website tailored to client and audience needs
Design effective communications campaigns
Utilize theory to create effective integrated marketing campaigns
Apply the principles and elements of design to online landscapes
Core Courses of the Web Design and Online Communication Specialization

Corporate and Brand Identity on the Web
Digital Imagery in Web Design
Digital Layout and Design
Web Design Principles
Advanced Web I
Advanced Web II
Web Interactivity and Engagement
Research Methods
Strategic Communication Ethics and Concepts
Mass Communication Theory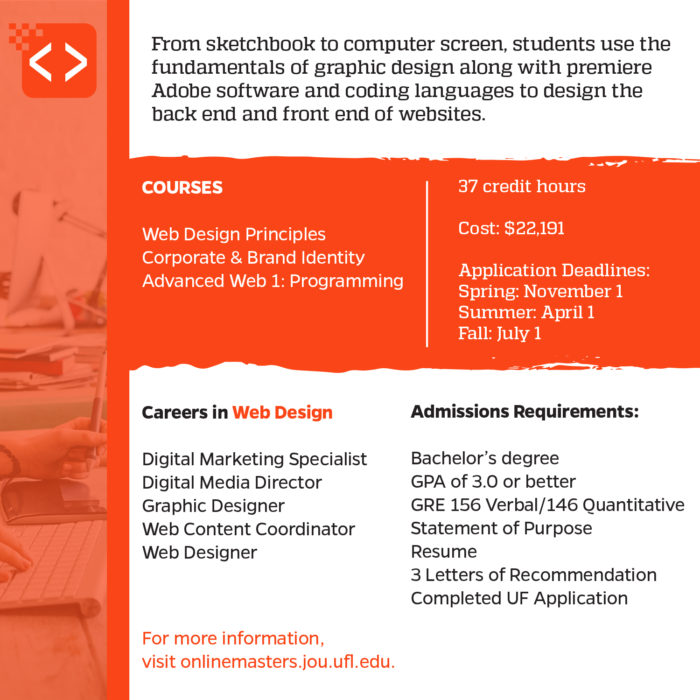 Application Deadlines: 

Fall: July 1
Spring: November 1
Summer: April 1
CORE CONCEPTS
CODE
Go beyond templates and shortcodes. Master HTML5 and CSS3, jQuery, JavaScript and PHP fundamentals. Take your front-end skills to the next level.
DESIGN
Get creative with design tools including Adobe Photoshop, Illustrator, and InDesign. Create stunning artwork and dynamic websites to drive engagement.
STRATEGIC COMMUNICATION
Focus on critical thinking, analysis, and practical skills to develop and implement communication strategies that advance an organization's goals.
Careers in Web Design
Specific positions you may qualify for upon graduation include:
Brand Manager
Digital Marketing Specialist
Digital Media Director
Digital Media Manager
Graphic Designer
Marketing Director
Online Campaign Strategist
Online Marketing Manager
Senior Web Producer
Web Content Coordinator
Web Designer
Web Manager