From Student to Instructor: Forever a Gator
By Leah Antovel, marketing and social media assistant at UF CJC Online
July 24, 2020
UF CJC Online's Master of Arts in Mass Communication sets students up for successful careers in a variety of areas. After graduation, some alumni work for companies or start their own businesses.
We spoke with a few graduates from our Web Design specialization who returned to UF CJC Online and became instructors, teaching the next generation of communicators through what they've learned while in the program and their own unique experiences afterwards. Their long-term dedication to the Gator Nation has had a major impact on improving the lives and academic careers of our students.

Patrick O'Keefe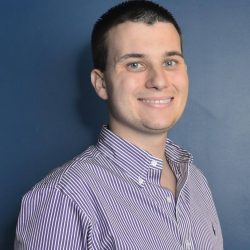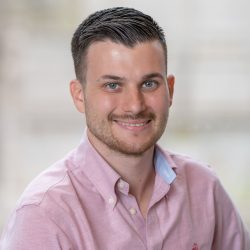 Patrick O'Keefe graduated from our Web Design program in 2014. After graduation, Patrick worked with Dr. Weigold to found the Political Communication Specialization before he began teaching in the program. With many unfilled jobs and industry professionals inquiring about individuals who have relevant skills, like experience with digital communication, he knew the need was there.
"We worked together and built this program up where I think it's really interesting and unique," he said. 
Patrick is now the director of Customer Success at Anedot, a company that helps not-for-profit organizations raise money online. In his role, he takes the same skills he learned in the Web Design program and applies them to his day-to-day activities. He is also a current instructor for UF CJC Online, but he finds balancing both to be fairly reasonable with the asynchronous structure of the program.
"It's not bad because it's flexible, which is the same thing I liked about the program to begin with," Patrick said. "It really is something you can work full time and be a professor or be a student."
Patrick's favorite part about teaching is when students click with the material and take it to the next level. He looks back fondly on a student from several semesters ago who he taught for multiple classes, including the capstone, and she was outstanding throughout.
"I actually brought her back, and she was a guest lecturer this semester because she's actually working in the field," he said. "It's really cool to see a student that I remember started the program and had some skill set but learned a lot throughout the program."
Patrick suggests students make the most of their time in the program by tying what they're already interested in to include in a portfolio for future employers instead of just checking off boxes. To him, being a thought leader and being reliable are key to make yourself stand out. Additionally, he points out that the network the Gator Nation offers is a valuable resource for students and alumni to find community, receive advice, hire employees and get a job.
"I haven't seen any university balance something for working professionals that is affordable and actually pays off," he said. "That's why I'm always an advocate, and I'm glad to still be involved."

Brianne Fleming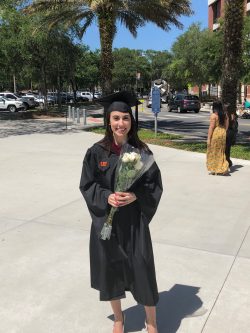 Brianne Fleming, like Patrick, graduated from our Web Design program, but in December 2017. At the time she graduated, she was already working a full-time job and quickly transitioned into teaching.
"One of the reasons I chose this program was that I didn't want to skip a beat in my job," Brianne said. 
From the time she started the program in January 2016, she knew she wanted to teach. Inspired by her instructors, she reached out to the program director towards the end of her studies and expressed that she would love to teach and asked if they needed additional instructors. After originally being told they were fully staffed for Spring 2018, her teaching career unexpectedly began sooner than she thought.
"At the last minute, one of the instructors could no longer teach, and they reached out to me," she said. "I had to develop the course and turn things around pretty quickly, all while putting the finishing touches on my wedding and getting married! I've been teaching ever since."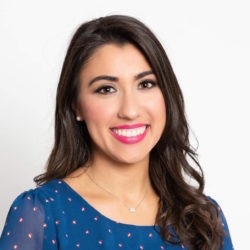 Brianne now works for herself at Twelve Stories Up where she does marketing consulting for clients mostly in the fitness industry. She also hosts a podcast called Making the Brand and runs a blog on her website. All of her creative endeavors have inspired new insights that she has incorporated into her coursework, like in her Branding Using Social Media class.
"I get to really know my students in this class since we focus on personal branding," she said. "I love seeing them define a niche that they're passionate about and build a brand from it."
When it comes to succeeding in life, Brianne suggests leaning into your personality with everything you do. She points out that there will always be others competing for the same opportunities you want, but being yourself and identifying your own differences will help make a positive impression. Meeting other ambitious people with diverse backgrounds, interests and stories within the Gator Nation has certainly helped her identify her own unique selling points, while appreciating others.
"Being a Gator unites us all," she said.

Kara Page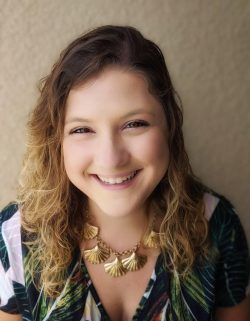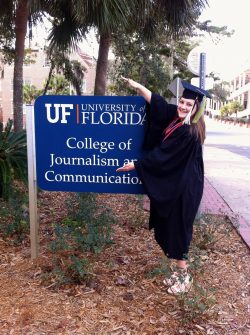 Another alumna of our Web Design specialization, Kara Page, graduated from our program in 2014. However, Kara has been a Gator since birth. Her father was a previous president of the Alumni Association, and she has only missed a handful of home football games in her lifetime.
After graduation, she was hired immediately and began teaching at the undergraduate level in the UF College of Journalism and Communications' Advertising Department before transitioning into the online master's program. 
At the same time, she worked as the Assistant Tutorial Program Coordinator at the UF Athletic Association where she helped to coordinate the student athlete tutorial program. In this role, she was in charge of 155 tutors and worked to tutor and provide resources to scholarship athletes.
Kara has always been the type of person who usually has two or three jobs at the same time, and her current situation is no different. Now, she has her own marketing and communications agency, Rewritten Page, where she specializes in digital communications, especially for professional-focused institutions, while also teaching undergraduate and online graduate students.
"My favorite aspect of teaching for UF CJC Online is helping students to learn something about themselves that they didn't already know," she said. "So, that could be a new skill or it could be a new-found confidence that will help them to go out into the field and be the best version of themselves possible."
Kara also teaches two versions of the capstone course. As far as her teaching style goes, it is greatly influenced by both her experience as an advertising and event management double major as an undergraduate and her work with student athletes who come from diverse backgrounds and face unique challenges.
For those looking to succeed in the program, Kara suggests making sure, in the beginning of the semester, students understand the course expectations, jot down due dates, keep a physical and digital planner and keep track of what's going on in the world.
"As communicators, it's so important to learn from the world around us, and right now, we have the really unique experience of living through a global pandemic, as well as social justice causes," she said. "And now is the opportunity for you to learn from organizations who are doing the good and bad of communications."
Throughout her early years, student life and now teaching career, Kara stresses that there is nothing quite like the Gator Nation and the life-long connections that are possible through an association with UF and a degree from UF CJC Online.
"Our classes are rooted in the real world instead of just based in theory, so you are going to be learning from the absolute best out there," she said. "So, if you do decide to join this program, embrace it, be excited to be a Gator and really fall back on the power of the Gator Nation."
If you'd like to learn more about pursuing a degree with UF CJC Online, please visit our website at https://onlinemasters.jou.ufl.edu/ and follow us on social @UFCJConline