Master's Spotlight: Jess Theofiledes and Lauren Fernandez
By Leah Antovel, marketing and social media student assistant at UF CJC Online
March 17, 2020
The UF CJC Online Master of Arts in Mass Communications is a comprehensive degree offering eight specializations that graduate students can choose from including audience analytics, digital strategy, global strategic communications, political communications, public relations, public interest communications, social media or web design. A diploma from one of the nation's top communications colleges sets Gators from all over apart from other online students.
Alumni, including the two former UF CJC Online students highlighted in this blog post, emphasize how the program helped them succeed during their time enrolled and beyond.

Experience as a Student at UF CJC Online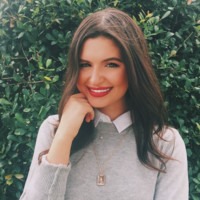 Jess Theofiledes, a 2018 graduate specializing in digital strategy, had an incredible experience as a UF CJC Online student. 
"I loved the flexibility the program gave me to work, travel and further my education all at the same time, on my own terms," Theofiledes said. "I truly feel every class I took in the program helped prepare me for my job and was extremely applicable to the real world."
Lauren Fernandez, a 2019 graduate specializing in web design and online communication, found the program to be enriching, empowering and formative for young professionals like herself. By taking web design classes as electives while pursuing her undergraduate public relations degree through the UF CJC Online Combined Degree Program, she was able to complete her master's faster, Fernandez said. After completing her undergraduate degree, she was able to start working and continued her master's studies while she began her full-time career.
"Having classes and lectures that were flexible, in the evenings, and remote was so key and what made continuing my secondary education possible," she said. "I appreciate that the program felt tailor-made for people who were also juggling lives and careers and that I could take as few or as many credits as I wanted each semester."
After Graduation
Two weeks after graduation, Theofiledes moved to New York City and began a marketing role at COVERGIRL, she said. After almost two years at the brand, she recently accepted a role at Rimmel Amsterdam and is excited to add international marketing experience to her resume.
After Fernandez graduated from the UF CJC Online master's program, she accepted a corporate communications analyst job with a company she greatly admires, JetBlue Airways, also in NYC. Fernandez says that her education undoubtedly played a role in her landing her dream job.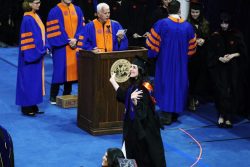 Benefits of UF CJC Online
In her current role, Theofiledes says the skills she's learned during her time in the UF CJC Online program have helped her with time management and public speaking. 
"Learning to manage a 100% online program, full-time job and social life was a great feat for me during this time," she said. "Prior to this graduate program, I found public speaking very difficult, and now I find myself taking every opportunity to stand and present my ideas in front of my company."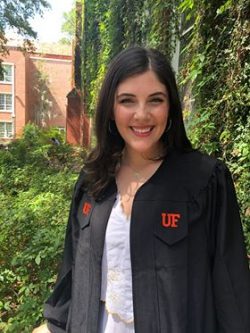 In Fernandez's case, UF CJC Online immediately gave her a set of hard skills in online communications, graphic design and web design that were marketable and helpful.
"Whether it's whipping up a graphic, creating a cross-channel communications rollout or consulting on a website refresh, I feel equipped with the knowledge and experience I need to jump right in," she said. "Becoming a UF CJC Online student has been one of the best, most forward-thinking academic and professional decisions I have ever made."
If you'd like to learn more about pursuing a degree with UF CJC Online, please visit our website at https://onlinemasters.jou.ufl.edu/ and follow us on social @UFCJConline