What is Different about Political Messaging in the Digital Age? Everything.
Become an exceptional digital political professional with an understanding of cutting-edge digital advertising, engagement, and analysis techniques in one of four areas of communication that are in particularly high demand.
Digital in politics has gone from a $2 million to $1 billion industry in only eight years. Professionals are still trying to keep up with this growth and many aren't trained in the field. A master's degree in political communication will give you the unique opportunity to learn from the best in the field and become a true professional. Whether you want to be a communications director on a presidential campaign, a media consultant creating grassroots outreach, or a public affairs strategist, this program is for you. Taught by leaders in their fields, this program prepares you to navigate the thrilling and changing landscape of politics and communication, giving you the tools to make a difference today. Our students harness the tools of modern campaigning to help increase political engagement and drive change.
University of Florida Online Master's in Political Communication
The online Master of Arts in Mass Communication with a specialization in Political Communication includes 38 credit hours— 35 hours of coursework plus three final credits in the capstone course. The program curriculum is guided by an Advisory Council of top industry experts, with courses taught by industry professionals and University of Florida faculty. Full-time students can complete a master's program in as few as 16 months. Unique Learning Experience UF CJC Online programs are designed for students who crave:
Courses that challenge them to grow as communicators through hands-on assignments where they receive detailed constructive feedback from peers and instructors
The flexibility of online courses where pre-recorded lectures and live online meetings allow students to engage with their courses from anywhere in the world
Networking opportunities with peers, alumni, instructors, and guest lecturers
Professional growth and advancement opportunities
Creative storytelling skills
A transformative student-centered learning experience
Personalized attention from highly engaged faculty
An affordable and respected graduate degree from a top-10 public university
Core Competencies of Political Communication Courses are designed to teach students how to:
Drive offline political activity using digital tools
Maximize political engagement
Use paid communication to mobilize voters
Optimize response channels using social media
Use cutting-edge political technologies to influence change
Engage voters, volunteers, and donors
Core Courses in Political Communication
Digital Political Campaigning
Digital Political Organizing
Fundamentals of Political Engagement
Fundamentals of Digital Political Advertising
Digital Imagery in Web Design
Web Design Principles
Mass Communication Theory
Mass Communication Research Methods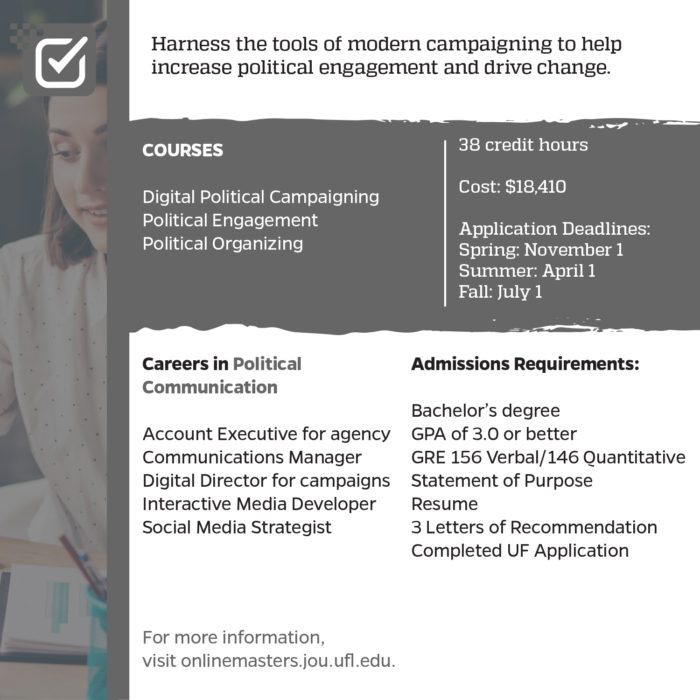 Application Deadlines:
Fall: July 1
Spring: November 1
Summer: April 1
Careers in Political Communication
Organizations hiring candidates with this skill set include:
Digital agencies/firms with political clients
Government offices
Political agencies/firms
Political campaigns
Public advocacy/lobbying organizations
Specific careers you may qualify for upon graduation include:
Account executive for political digital agency
Account Manager
Communications Manager
Digital Director for political campaigns
Digital Media Analyst
Digital Strategist
Interactive Media Developer
Social Media Strategist