The field of political communications is consistently expanding, particularly in the area of digital. The image below from eMarketer.com shows the consistent increase in digital expenditures in the past 5 election cycles: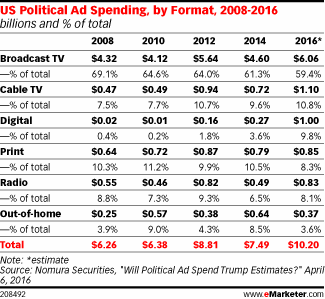 On top of those statistics, 42% of millennials use their smartphones to research politics, and online advertisements are among the top 5 most effective forms of political marketing for every age group. It's clear that digital in politics is an expanding field and there will be a premium in the job marketplace for politically savvy strategists who have extensive knowledge of online platforms.
Our faculty of industry experts and Ph.D.-level instructors created a program specifically for professionals looking to take the next step in their careers.
Organizations hiring candidates with this skill set include: 
Government Offices

Political Campaigns

Political Agencies/Firms

Digital Agencies/Firms with Political Clients

Public Advocacy/Lobbying Organization

s
Examples of opportunities you may qualify for include:
Digital Director for Political Campaign
Account Executive for Political Digital Agency
Account Manager
Communications Manager
Digital Media Analyst
Digital Strategist
Interactive Media Developer
Social Media Strategist
And, with our Master Access benefit, graduates can return and review master's degree courses forever, within their chosen specialization and in others offered by the UF College of Journalism and Communications.