Uncover Actionable Insights. Tell the Story Hidden in the Data.
Ever wonder how companies learn your secrets? How do they know what you want before you realize it? For example, how did Target know a woman was pregnant before she did? The New York Times pens, "The reason Target can snoop on our shopping habits is that, over the past two decades, the science of habit formation has become a major field of research in neurology and psychology departments at hundreds of major medical centers and universities, as well as inside extremely well financed corporate labs."
This phenomenon is Audience Analytics.
People with these skills are needed in our marketplace, now. We are awash in data, yet most companies are understaffed when it comes to people who know how to interpret the data— how to find the trends, patterns, and stories, then communicate these insights to their companies to drive decision-making in this billion-dollar industry. Give your company a competitive edge by learning about and using tools to effectively identify trends and communicate those findings through meaningful presentations
This program focuses on:
Consumer Behavior
How people select and use products, services, experiences to satisfy their needs.
Data Analysis
Identify trends and patterns; translate data into stories to help companies make better decisions.
Media and Audience Research
Carry out quantitative and qualitative research; apply media research and audience analysis to address company goals.
With the MAMC in Audience Analytics, we're bringing left and right brains together. Data is only as useful as the person interpreting it, who can translate findings into actionable insights and "stories" for their companies and stakeholders. In this program, you will not only learn about and use tools to uncover actionable insights, but learn how to effectively communicate them in verbal and written form, including presenting to actual clients. Read more about jobs in this exciting and lucrative industry.
University of Florida Online Master's in Audience Analytics
The online Master of Arts in Mass Communication with a specialization in Audience Analytics includes 39 credit hours— 36 hours of coursework plus three final credits in the capstone course. Program curriculum is guided by an Advisory Council of top industry experts, with courses taught by industry professionals and University of Florida faculty.
Unique Learning Experience
Each semester is 12 weeks, with three semesters per year (Spring, Summer, Fall).
Full-time students can complete the curriculum in under two years.
All classes are online with recorded lectures, allowing students to view classes at their pace during the week. Each week, students must meet weekly objectives and complete assignments.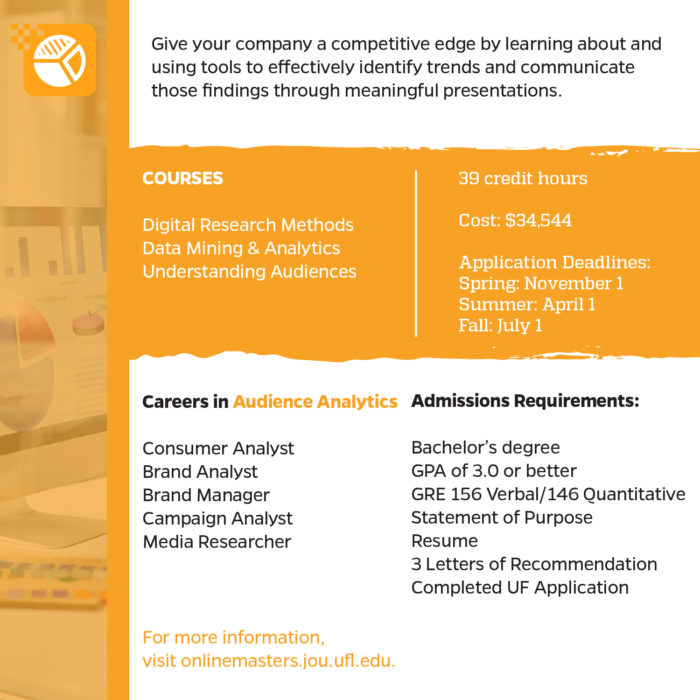 Application Deadlines: 
Fall Semester
July 1
Spring Semester
November 1
Summer Semester
April 1
Careers in Audience Analytics
Careers in audience analytics pay very well, with salaries of $60,000 – $105,000+ per year. Jobs you will qualify for are:
Audience and Consumer Analyst
Brand Analyst
Brand Manager
Campaign Analyst
Consumer Behavior and Market Researcher
Data Analyst
Media Researcher
Political Researcher
Researcher in Product Development